Business plans rely on estimates of the size of your target market, but how and when to approach this?
In a recent lecture to students on the Technology Venturing elective of the MSc in Entrepreneurship at Royal Holloway University of London, School of Management, I explored opportunity evaluation, market research and commercial feasibility. The lecture, based upon practical experience, cited four real life examples of new products for the film and television production market, describing the process and the outcomes.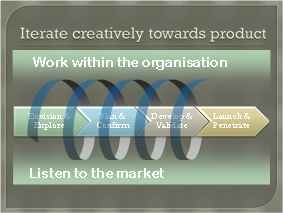 The process he described is an iterative one involving going out into the market to seek inspiration for ideas, then confirming that the ideas are valid within the organisation. Forays into the market help to ensure that the product continues to address real unmet needs throughout its development. Alternating these forays with work within the organisation ensures that products are realistic within the confines of the organisations abilities, resources and values. As the activity cycles between organisation and market, the project progresses through the stages of product definition, development and delivery.
Each example covered one of the stages of desk research, industry interviews, preliminary product pitching and recognising new opportunities. The examples were described in detail and the results and conclusions shared. These real world examples helped to illustrate how contrary research can be and how new product development can be full of highs and lows.
Using stories from his experience in the film and television industry, Chris brought what can be a dry subject to life. With humour, enthusiasm and dynamism Chris entertained and informed.
"Chris has a wealth of insights and experiences to share. He definitely captured the students' interest", Dr Harveen Chugh, Lecturer in Strategy & Entrepreneurship, School of Management, Royal Holloway, University of London.