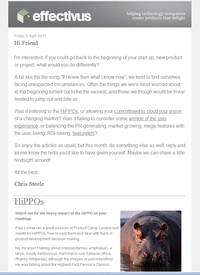 Every month I send out a short email with links to new articles I've written that month. Like the articles it is intended to be a "coffee cup moment" – giving you something unexpected, entertaining and challenging – just something to get your mind out of that rut and to think about things in a different way..
"it's a great source of inspiration"
"I loved what you had to say and write in this month's newsletter – suitably provocative, fun, stimulating – a treat."
"they are wonderfully creative and I appreciate the stimulating thoughts"
"It makes me chuckle and is a moment of sanity in an often all too crazy world!"
"it is interesting, amusing and thought provoking"
"I love that you come at things from such an unusual angle. Keep it up please and keep sending to me."
Register here, I'll not share your details with anyone else, and every newsletter has a no hassle unsubscribe link.
Get the latest from effectivus